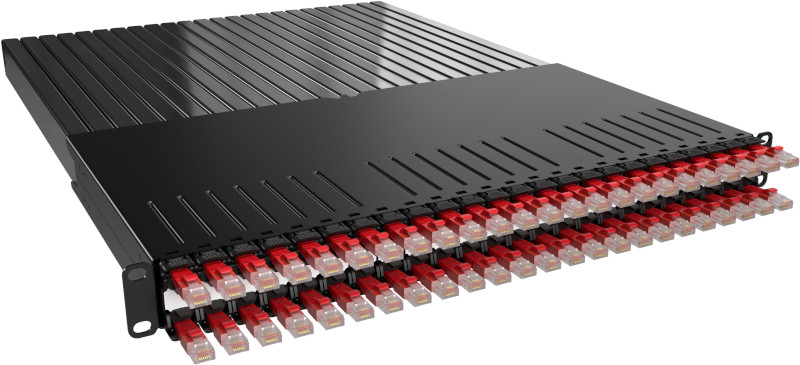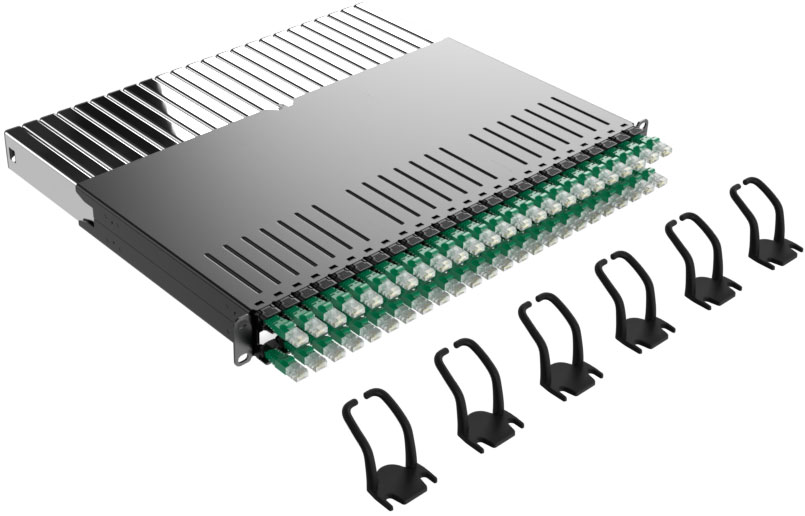 It's a perfect patch!
Simplify Cable Management
The PATCHBOX® is the most modern cabling system for network cabinets and makes conventional cable guides and patch cables simply look old. Thousands of satisfied customers worldwide rely on this patented innovation to make their IT more efficient, faster and more economical.
Space Saver & Cord Keeper.
Save money thanks to the PATCHBOX®. It not only stores your unused patch cords safely and ensures they are ready when you need them it also allows a higher density in your network rack compared to conventional methods. That equals more gear in the same space with more overview.
Keep an overview.
The PATCHBOX® keeps your network cabinets permanently clear – you can see at a glance what is connected to what.
10 x faster maintenance.
With the PATCHBOX® you reduce maintenance work to a minimum. And you can act faster in case of emergency.
8 x faster installation.
Thanks to PATCHBOX®, installations are much faster and easier.
Always in order.
The patented pulley system in each individual cassette pulls back excess patch cords and stores them securely inside.
Fluke Certification.
Every patch cord (fiber and copper) is tested to ISO/IEC 11801 standards.
Space-saving.
Patch cords are ready to use faster and provide higher packing density in the network closet.
Modular cassette system.
The PATCHBOX® cassettes contain shielded or unshielded Cat. 6 cables (STP/UTP) and are even available as optical fiber (OS2/OM4).
Advantages for Companies.
20 % cost reduction.
The patented system of the PATCHBOX® reduces maintenance and installation work to a minimum, resulting in a cost reduction of approx. 20%.
Highest customer satisfaction.
More than 10,000 satisfied customers all over the world already rely on the innovative PATCHBOX®.
Employee satisfaction.
The PATCHBOX® makes often stressful network work easier, which makes IT employees happy. This is certainly an advantage in the "war of talents".
5-year warranty.
The PATCHBOX® convinces with highest material quality and custom-made production – on top of that you get a 5-year manufacturer's warranty from us.
Everything about the Gamechanger
Optimally Organized
The PATCHBOX® is extremely well thought-out and logically structured. For example, you can change a defective switch in just three minutes. The patented system keeps your network cabinet tidy at all times. This saves you high costs for ongoing maintenance, troubleshooting and rebuilding!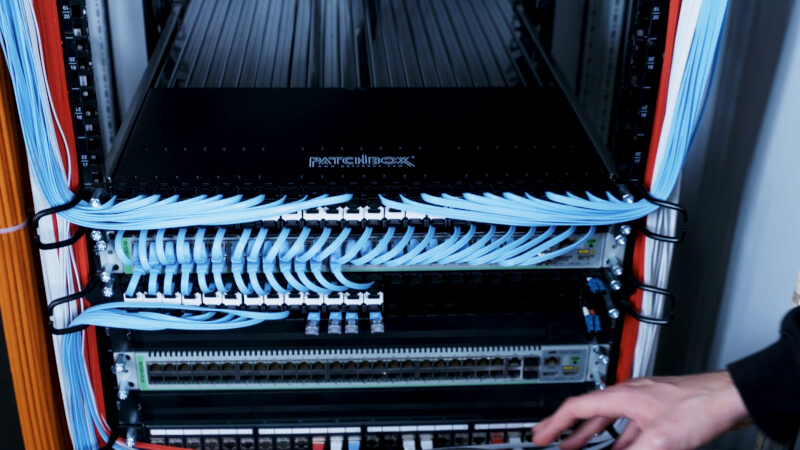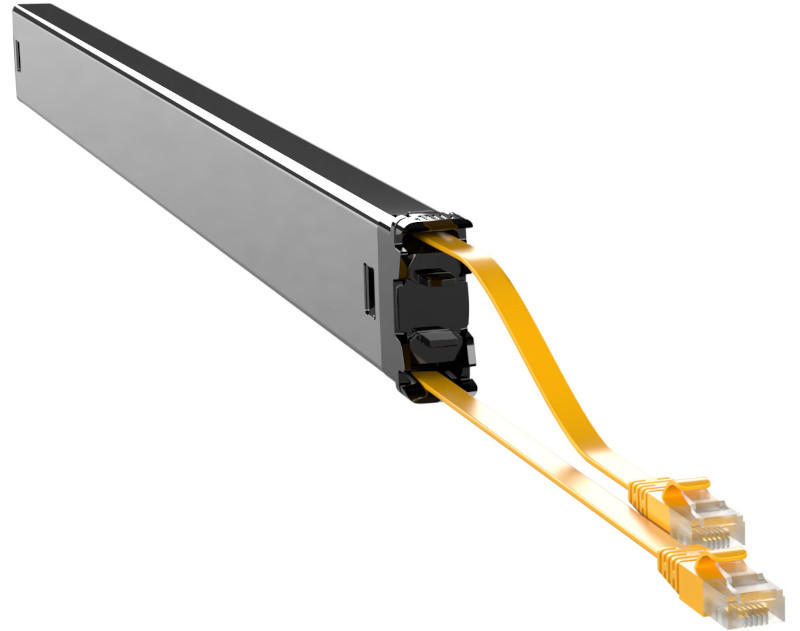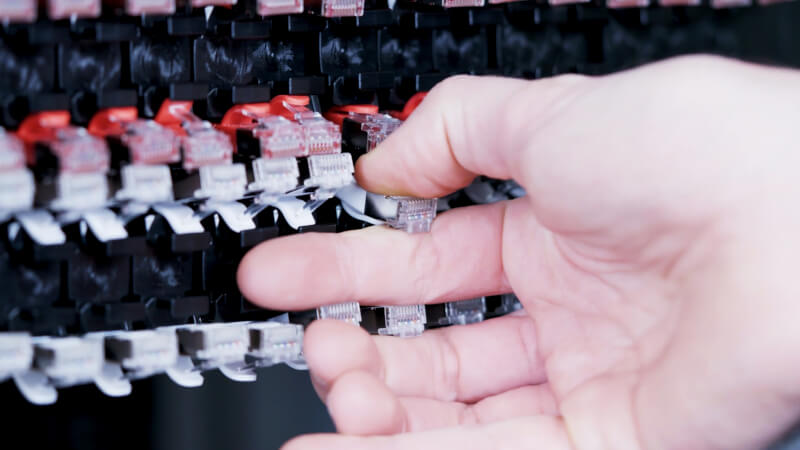 Troubleshoot in record time
Not only is replacing a switch a breeze with PATCHBOX®, but so are everyday tasks like patching a network connection. By laying the cables straight, you can track down patch cords more easily – and in record time!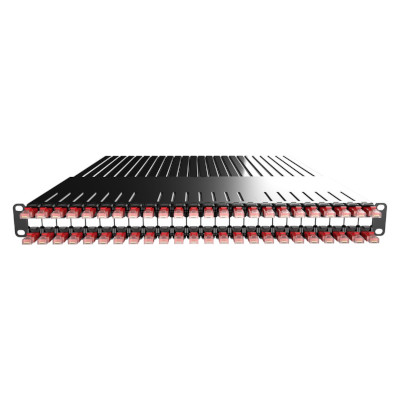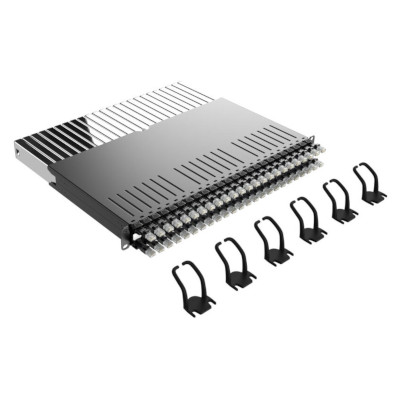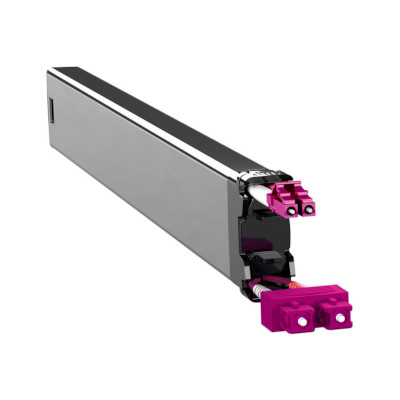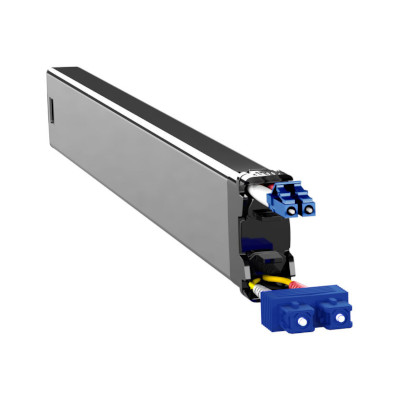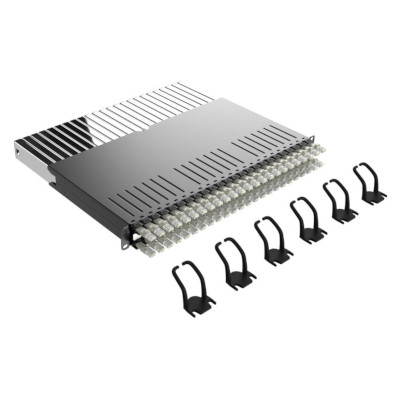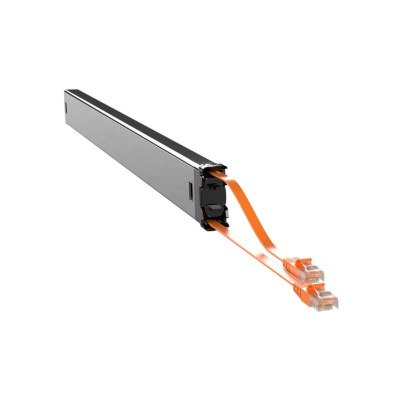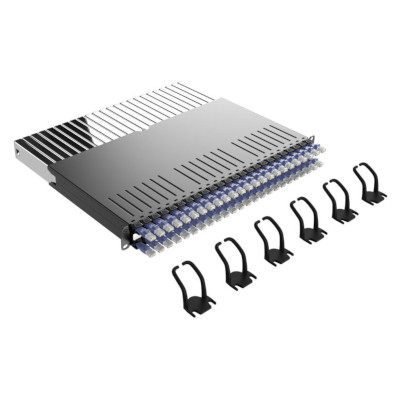 Patch cords for both the PATCHBOX Plus+ and PATCHBOX 365 are available in eight different colours; black, white, red, green, blue, yellow, violet and grey (Grey STP only).
Order your PATCHBOX pre-assembled to your specific requirements.
Cable & Space miracle.
Store unused cables quickly, neatly and safely. Always at hand. The higher packing density in the network cabinet also provides space for more components.
Minimum input, maximum output.
Installation of the PATCHBOX® including patching of the 24 cables is approx. 8x faster than conventional methods. Typical maintenance work (moves, adds, changes) or switch replacement up to 10x.
Adaptive cable length.
The patented reel system releases only as much cable as needed. Proprietary cable brakes ensure that the patch cable is neither stretched nor sagging. The ends are also independently extendable.
Modular & Flexible.
Modify the setup in the blink of an eye. For optical separations in the network cabinet or fiber optic uplinks.
Highest quality patch cords.
All patch cables (fiber or copper) are tested to ISO/IEC 11801 E standards and are flat (twisted pairs, of course) because they are easier to bend, take up less space and are less bulky to handle.
High-end components.
High quality springs for millions of draw cycles, profiles made of high quality stainless steel, patch cable connectors with extra thick gold plating, materials (if possible) from local partners.
Easy labeling.
Logical mapping: simply write a patch panel port on the label, as the side of the PATCHBOX® connected to the switch has a 1:1 mapping.
5 Year warranty.
On all production-related problems with PATCHBOX® Plus+ and PATCHBOX® 365.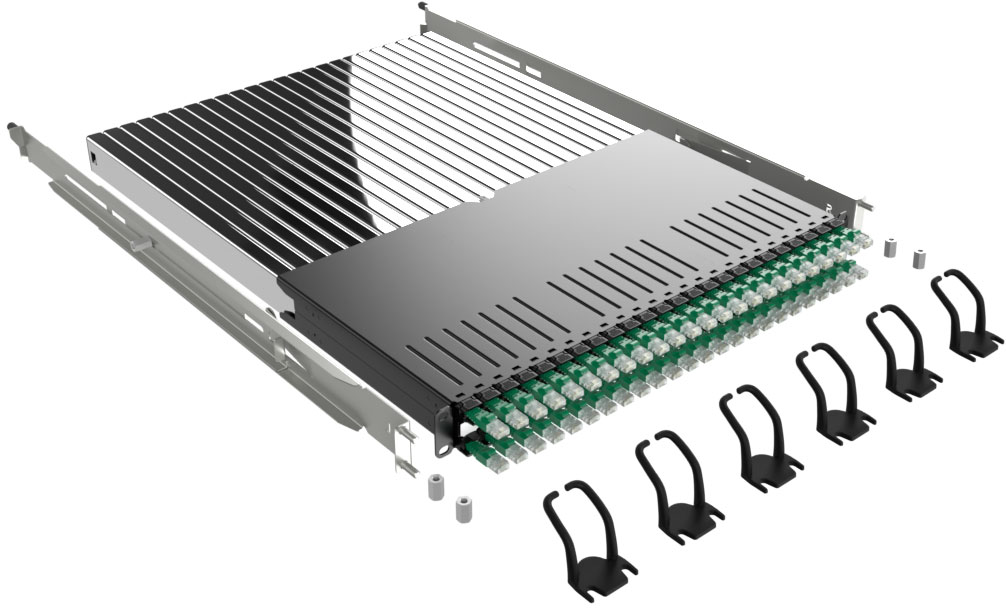 Patchbox Plus+
For big racks
A true all-rounder, designed for full-size racks, has a total cable length of 1.7 m (covers up to 26U), and can be extended in one direction or the other.
Scope of delivery
24x PATCHBOX Plus+ Cassettes with Fluke tested patch cords
1x PATCHBOX Plus+ Frame
2x adjustable Mounting Rails incl. HEX-Nuts
6x PATCHBOX Patchcatch (0RU Cable Management)
2x DIN A5 tear off labels (96 Identification labels)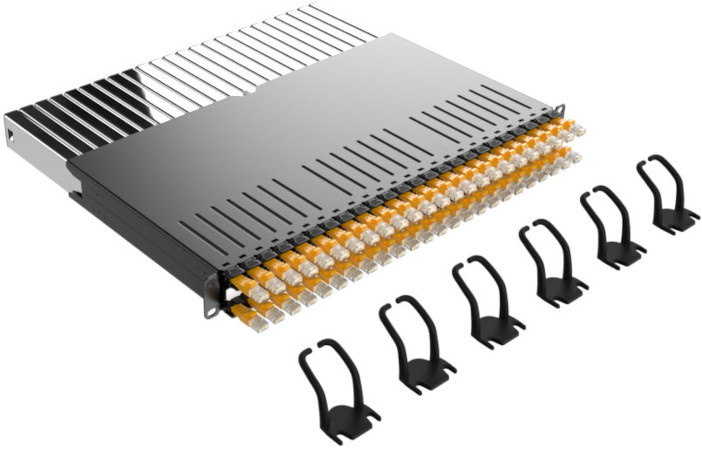 Patchbox 365
For wall cabinets
The minimalist version of the PATCHBOX® Plus+. Specially designed for wall cabinets where space is limited or cable lengths are not an issue. Has a total cable length of 0.8 m (covers up to 10U), and can be extended in one or the other direction.
Scope of delivery
24x PATCHBOX 365 Cassettes with fluke tested patch cords
1x PATCHBOX 365 Frame
6x PATCHBOX Patchcatch (0RU Cable Management)
2x DIN A5 tear off labels (96 Identification labels)